Moving out report for inspections
Moving out reports for moving inspections
You can easily create moving out reports during moving inspections
When a tenant moves out of your rental property, you have to create a moving out report. This can be done quickly, easily and professionally with DomuSpect – digital moving reports.
Download DomuSpect for free in App Store or Google Play Store. In other words, you can get started at once, and have a finished moving report in no time.
Free app – cancel at any time
At DomuSpect, we think that you should try out the app that you can use for free or upgrade with a subscription. You can cancel the subscription at any time! The only chance you have to take is the time you spend on trying the app. In case you have any questions, feel free to call us or send an email, and we will do our best to help you.
When you download DomuSpect – digital moving reports, you receive two free reports. This means that you can try creating both a moving in report and moving out report as there are certain differences between the two types of inspection. If you need more reports when you have tried the app, they can easily be purchased through the app. When you purchase one or more reports, they can be used for both moving in reports and moving out reports..
You can call us on +44 2039 361288, and we might be able to provide an offer for you – both if you are a new customer, but also if you are already a customer.
Moving out easily
When you create a moving out report, it is essential to include all of the important information. For example, photos, flaws and deficiencies, damage and wear, and much more. DomuSpect ensures that you conduct the moving inspection step-by-step via a checklist. Thereby, you do not forget any information during the inspection. When you have filled out all of the information, the app automatically creates the report as a PDF-file – including photos and notes.
The moving out report is easily forwarded to the tenant and who else might need it. For example, craftsmen, painters or your office.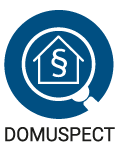 Developed in collaboration with lawyers
DomuSpect is developed in collaboration with lawyers who specialise in the Rental Act. Thus, we have ensured that all of the legal aspects are covered in the app. This makes it easy for both the tenant and the landlord.
DomuSpect is the only app that base questions on your previous steps. Thereby, the moving inspection can be handled easily and simply without forgetting any important information.
The price? It is very inexpensive compared to other apps – you can check our prices and see for yourself. We have the most cost-effective and transparent prices in the industry. You do not have to pay for any consultation or the like which means you can start using the app quickly and free of charge.
We have multiple How to videos on our YouTube channel which can help you get started with the app.
Download DomuSpect for free including two free reports. This means that you can try creating a moving in and out report before having an actual inspection with a tenant.
If you need more information about digital moving reports, call us on +44 2039 361288. You can download the app and create your first moving inspection – that is how easy it is to use DomuSpect. Simply, it has never been easier to make moving out reports.